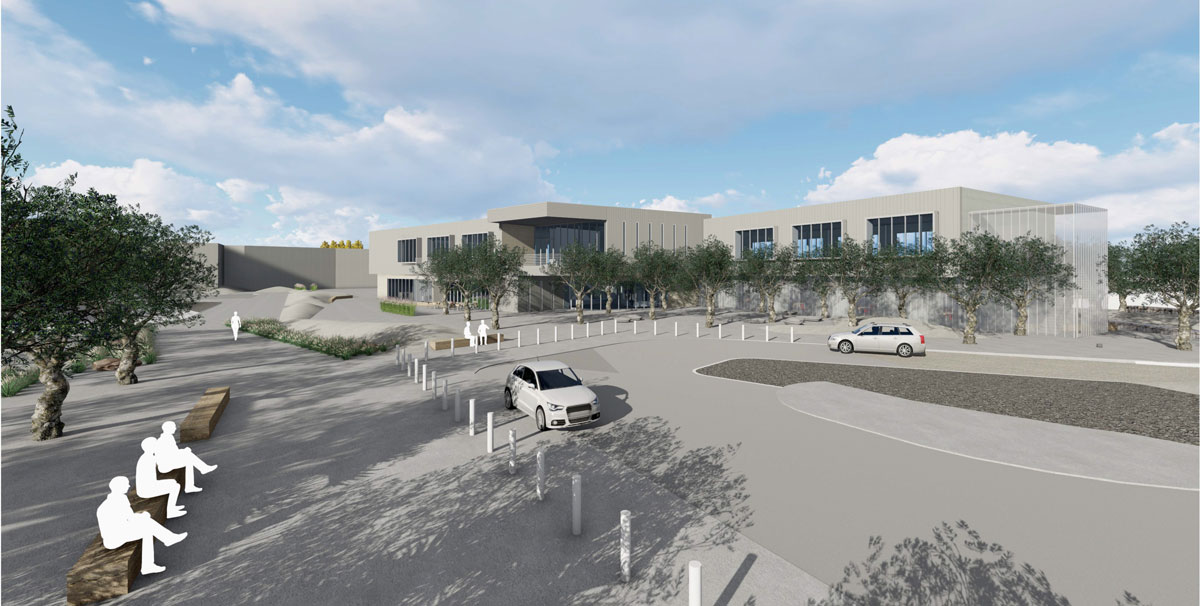 ​
BY JOHN COX (jcox@bakersfield.com)
Nov 12, 2020
Wonderful Real Estate Development has unveiled plans to expand its Shafter industrial park with the addition of a 61,000-square-foot corporate office complex, a 37,200-square-foot vocational training center and a restaurant measuring 8,500 square feet.
Rendering courtesy of Wonderful Real Estate Development
---
One of Kern's largest employers announced Thursday it will expand its presence in the southern Central Valley through the addition of corporate offices, a training center and related facilities at a retail distribution complex it owns in Shafter.
Los Angeles-based The Wonderful Co. said the 61,000 square feet in corporate offices it will build at the Wonderful Industrial Park by spring 2022 will accommodate more than 200 of its employees in local real estate development as well as fruit and nut production. The space is slated to include a wellness center with a gym offering exercise classes.
Also envisioned as part of the expansion are a state-of-the-art, 37,200-square-foot vocational training center and a restaurant measuring more than 8,000 square feet.
Thursday's announcement marks a new, more ambitious phase for a 1,625-acre industrial complex whose tenants include major retail chains including Walmart, Target and Ross Dress for Less.
Some of the new facilities will be available for use by the park's existing tenants, including meeting rooms and the training center, which Wonderful said will be customizable to serve different employers' needs.
Bakersfield industrial real estate broker Wayne Kress expressed confidence the new facilities, and especially the training center, will fill an emerging need as distribution and warehousing workers increasingly find themselves working side by side with robots.
"Automated systems and robotics are displacing some traditional roles, but these new ways of doing things require educated support," Kress said by email Thursday. "I believe this is what Wonderful's training center is designed to address."
"In addition, there are no nearby retail services to support this growing labor pool," he added. "The nearest food services are several miles away. Wonderful's planned restaurant will improve that situation."
Shafter Economic Development Director Bob Meadows called Wonderful's project a "big commitment" by the company that's sure to attract positive attention to the city.
"This isn't just another distribution center," he said. "It's going to be a first-class building. I think it demonstrates (Wonderful's) corporate philosophy of taking care of their people."
Wonderful also took the opportunity Thursday to provide an update on the development of a 630,000-square-foot, highly automated distribution center Walmart is building on land the global retailer bought at the Wonderful Industrial Park in 2018.
Wonderful said the new facility will allow Walmart to distribute fresh and frozen food 40 percent faster than before because of the new plant's technology, design and automation.
"This is an arms race in the grocery business with all the big players, including Amazon, Target, Walmart, Kroger, Publix and others lining up to reach customers with same-day and one-day delivery of food and related consumer products typically purchased in grocery stores, and this facility will serve Walmart stores throughout southern and northern California," the president of Wonderful Real Estate Development, Joe Vargas, said in a news release.
"Any developer with available land near population centers across the United States is vying for this business and our park is well-positioned as consumer shopping habits continue to evolve," Vargas added.
The Walmart facility is planned to open in the spring with 300 employees.