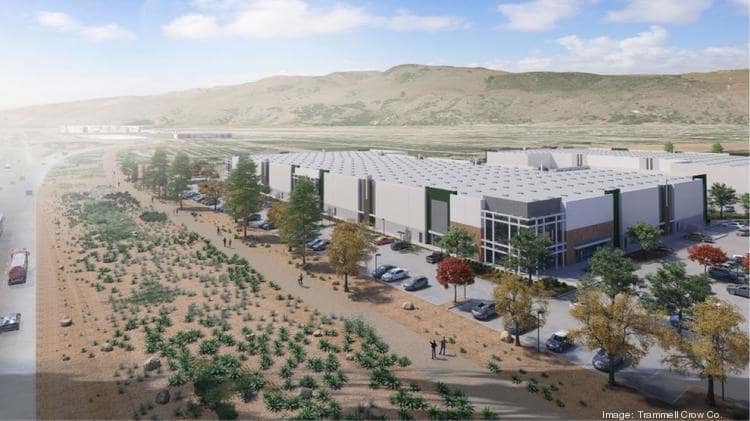 Trammell Crow Company is looking to break ground on a 501,314-square-foot light industrial park on 30 acres it owns in Morgan Hill toward the end of this year, a company representative said Thursday. Seen here is an artist's illustration of the project, dubbed "Redwood Tech @ 101."
TRAMMELL CROW CO.
Matthew Niksa – Commercial real estate reporter, Silicon Valley Business Journal
Jul 22, 2021 Updated Jul 22, 2021, 4:26pm PDT
Trammell Crow Company hopes to break ground on a big new industrial park in Morgan Hill later this year, a company representative said Thursday.
The Dallas-based developer is looking to start construction on the planned 501,314-square-foot project at the "earliest possible moment," said Don Little, senior vice president of development for the company's Northern California unit, during the Business Journal's "Future of Morgan Hill" event. That could mean the fourth quarter of this year or the beginning of 2022, Little said.
While the company is aiming for sooner rather than later, it will only be able to meet that timeline if the city "doesn't shoot me for trying to go that fast," he joked.
"We think there's room in the market," Little said. "We think there's capacity that we can bring to the local community, local industry for their continued growth," he said.
The vacancy rate for industrial space in Morgan Hill is now below 3%, a "remarkably low" number, Little said. Because of that, there's not much room for growth.
Trammell Crow is trying to address that situation with both its new project and a smaller industrial park it started building in the city earlier this year.
The company is planning to build the new business park, dubbed Redwood Tech @ 101, on about half of a 60-acre plot it owns in the northeast part of Morgan Hill. The developer originally planned to cover the entire site, which it purchased in 2019, with about 1 million square feet of industrial space. But facing stiff opposition from residents to the project, it withdrew those plans in September.
In February, it submitted a new plan for a park half that size with smaller buildings. The revised project would cover only the southern half of the property, which is located just east of U.S. Highway 101 and bordered by Cochrane Road to the north and Half Road to the south.
"We walked into town, we thought we had a great idea, and community sentiments pushed back — and they pushed back significantly," Little said. "It made us rethink the entire project. Being intellectually honest, I get it. If I was them, I would have been concerned as well."
The Morgan Hill Planning Commission approved Trammell Crow's revised Redwood Tech plan in May. The following month, the City Council rejected an appeal of that decision made by a group of residents. The developer is now preparing for construction, although it still needs to obtain building permits for the project.
The site could also house retail space and offices
Although it no longer intends to build industrial space on about half the site, Trammell Crow has other plans for that portion. It's now considering constructing retail and hotel space on the northern 17 acres of the property, Little said.
Meanwhile, the remaining 13 acres is zoned for new office development and offers a "perfect campus location," he said. A Silicon Valley company has expressed preliminary interest in building offices there, he said.
"Everyone keep their fingers crossed on that one, and hopefully, we'll have some good news here in the mid-term," Little said.
Trammell Crow has not yet submitted plans to redevelop those two plots, he said.
The industrial park the developer already has under construction — Butterfield 5 Technology Park — is Morgan Hill's first multi-building industrial development in 20 years. It's also the first to be built in the city during that period without any tenants in tow, Little said.
Located on 24 acres west of Highway 101, at Butterfield and Sutter boulevards, Butterfield 5 will consist of five Class A industrial buildings containing a combined 410,076 square feet of space.
Trammell Crow teamed up with CBRE Global Investors to buy the Butterfield 5 site last August for about $14 million. The development's buildings will range from 70,280 to 91,738 square feet in size, making them suitable for small or mid-sized companies or a larger one interested in leasing more than one structure, Little said.